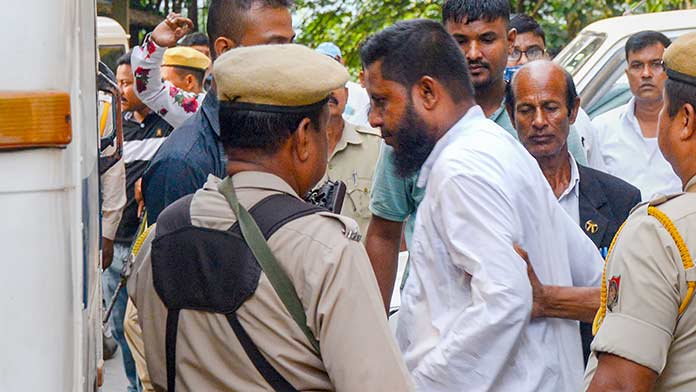 Assam: 25 more PFI members are arrested by police
Guwahati: Assam Police arrested 25 members of the PFI (Popular Front of India) today, including college and school teachers, imams, student leaders, businessmen, and others. The police also filed cases against PFI members in various districts. On September 22, 2022, state police arrested 11 PFI members.
"The police will intensify their operation against PFI," said Chief Minister Himanta Biswa Sarma.
The Chief Minister has repeatedly urged the Centre to ban the PFI for alleged terrorist activities in Assam.
Ten PFI members were arrested today in Goalpara, five in Kamrup, three in Dhubri, two in Barpeta and Baksa, and one in Karimganj, Darrang, and Udalguri. Today, police apprehended Abu Saleh in Bishkuti, on the outskirts of Karimganj. Saleh is a Karimganj College B.Sc. student. A local court sentenced him to 14 days in jail.
Bilasipara Police Station in the Dhubri district arrested three PFI members from various locations.
Criminal conspiracy, sedition, promoting enmity between different groups, and other charges have been levelled against the arrested PFI members. According to a police source, PFI leaders and members are going all out to incite communal strife across the state. Since the anti-CAA (Citizenship Amendment Act) agitation, they have been active in Assam. The PFI has been on the Assam Police's radar since then.
Aminul Haque, the PFI's northeast regional secretary, Assam unit president Abu Sama, and general secretary Robiul Hussain are among the 36 PFI members detained in Assam. Abdul Hamid, a school teacher, Dhubri district PFI president Abdus Salam Talukdar, and Lutfar Rahman are the three PFI members.