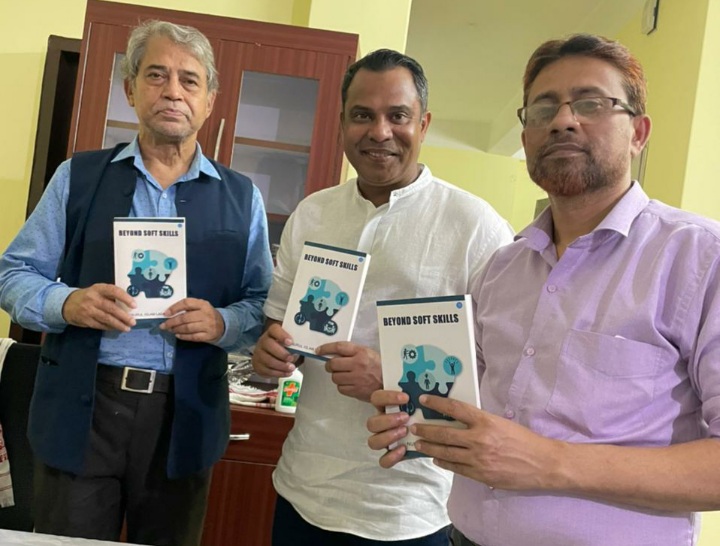 Assam Govt keen to work for minorities: Habib Md Chowdhury 
GUWAHATI, MAY 20, 2022: The sociallaunch of the book "Beyond Soft Skills" was done by Habib Mohammad Chowdhury, Chairman, Assam State Minority Development Board, in presence of other dignitaries, on the sidelines of the 6th Board Meeting of the Progressive People's Foundation (PPF), a leading public charitable trust of Assam.
Jia Uddin Choudhury, Chairman PPF and convenor of Hafsa Foundation, lauded the good work done by the field workers of PPF in promoting education, skill development, self-employment, and distributing relief to BPL families in different parts of the State in recent times. He informed that efforts are on for tree plantation and beautification of schools, colleges, prayer house complexes and parks in different parts of Barak Valley of Assam for which the ERD Foundation has agreed to provide field support.

Rafique Ahmed Laskar Vice Chairman PPFsaid, "It's a matter of great satisfaction for all of us that the coaching facilities arranged by us at Katlicherra, a remote place in Hailakandi District, could enable a large number of youngsters to get job in Assam Police. The successful candidates belong to different castes and communities, and most of them come from BPL families." He informed that elated by the success of this pilot project, PPF would be opening more coaching centres in different parts of the state in the coming days.
In his address as the chief guest, Habib Mohammad Chowdhury said, "The Government of Assam is keen to see rapid development of the minority communities in the state in which different social organisations and NGOs can play a vital role." He assured his full support to the socio-economic welfare projects that PPF is promoting across the state over the years. Speaking about the book "Beyond Soft Skills" authored by Nurul Islam Laskar, PR Consultant and Motivational Speaker, he said that such books go a long way in helping people develop their personality in general and prospectivestudents crack their interviews in particular.
Suaid M Laskar, Head of Admissions at Admissify, who was present at the event, announced that they would be including the book "beyond Soft Skills" in the kit that is given to students going abroad for higher studies.