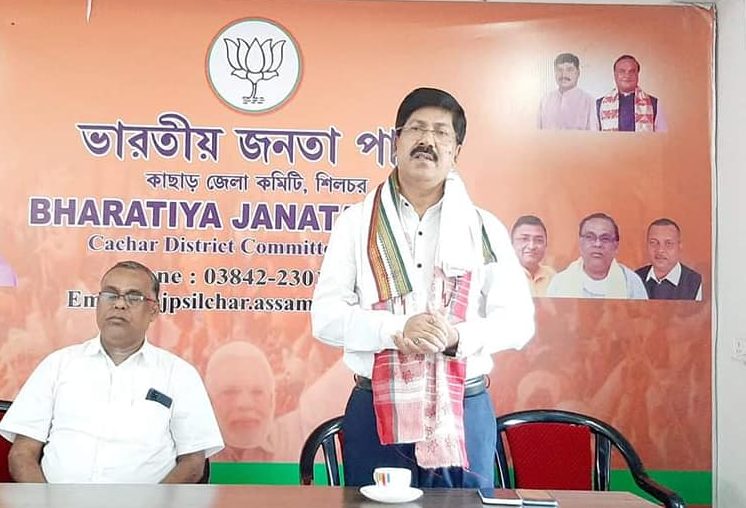 Assam Minorities Commission chairman Aminul Haque Laskar firm on resolving pending cases
Silchar: Aminul Haque Laskar, the newly appointed chairman of the Assam State Commission for Minoritie, has stated that there are 29 cases pending in the commission and that he will strive to determine the legality of the claims and remedy them as soon as possible.
"I am overwhelmed with the response people gave me on my return here after assuming the charges of the Commission established back in 2003. From 2017 until September 5 2022 when the Commission was reconstituted with five other members viz Ujjal Shyam, Amritpal Singh, Surajmal Jain, Suonkhomang Changsan, and Badiuj Zamal and me as the chairman.
According to Laskar, Chief Minister Dr. Himanta Biswa Sarma has entrusted him with the responsibility of working over the next three years to protect the interests of people from minority communities and ensure that they do not become victims of injustice. "The Commission received many cases, many of which were resolved, while others were referred to the National Commission for Minorities."
There are currently 29 pending cases, and this body of the Commission will investigate the reasons for their pending status and work to resolve the cases as soon as possible. There is a lot of work to be done to meet the expectations of the Chief Minister, who wants no one from any of the minority communities to face injustice," Laskar explained.
When asked about the recent demolition of madrassas by the State Government, Laskar, a former Sonai MLA, said that any place or institution, regardless of religious beliefs, that encourages anti-Indian sentiments and instils treacherous thoughts against the country should be crushed.
"There are approximately 5,000 madrasas in the state. The Government respects the madrasas, which impart lessons on the Holy Quran and lessons on how to become good and responsible nationals to serve the country. I am not in favour of demolishing madrasas at large, and I believe the Government led by Chief Minister Dr Himanta Biswa Sarma has no such intention."
However, if any madrasa (s), or for that matter, any other site or institution in the state is proven to incite anti-India/Jihadi views among the young minds who go there to seek noble learning, such madaras or institutions should be razed. "No such element shall be permitted to wander free that harms or is likely to bring harm to the country," Laskar warned.