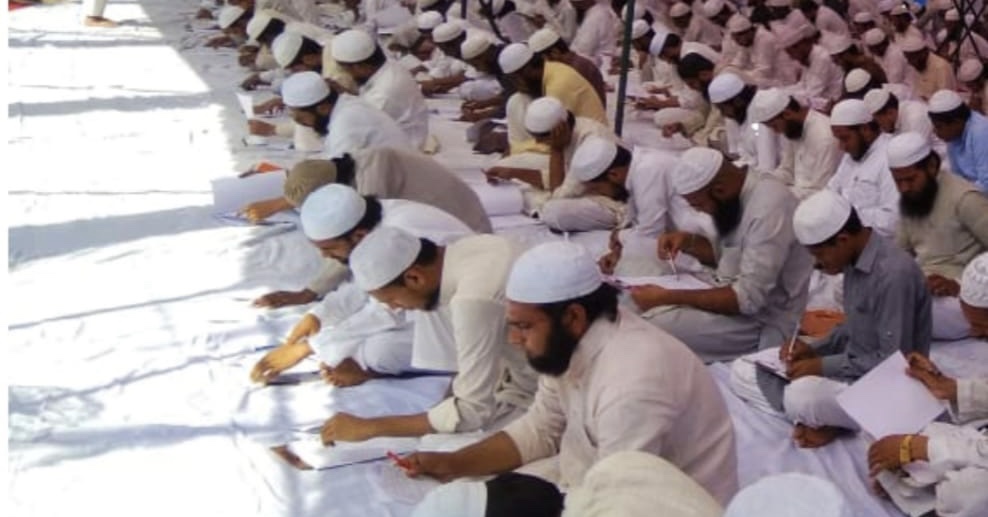 Dates for Common Entrance Exams of Diploma in English for Madrasa Graduates Announced
Online Forms available for all institutions affiliated to Markazul Ma'arif, Mumbai.

The exams are scheduled on 09 and 11 February in Deoband.
Mumbai, 21 January, 2023: Markazul Ma'arif Education and Research Centre (MMERC), Mumbai announced the dates for the national level entrance exam for fresh madrasa graduates who wish to seek admission in the two-year Diploma in English Language and Literature (DELL) course for the batch 2023-25. In a press statement Maulana Mohammad Burhanuddin Qasmi, Director of MMERC, Mumbai stated that the written and oral tests are scheduled on 09 and 11 February 2023, corresponding to18 and 20 Rajab, 1440 AH on Thursday and Saturday. The exams will be held at Heera Garden, Qasimpura Road, Near Eidgah in Deoband, (UP).
The press statement further detailed that the written exam will be held on Thursday and only those who passed it will be called to appear for the oral exam on Saturday. On merits only those candidates will be selected who have scored better in both – the written and the oral exams for all MMERC affiliated branches across India.
Maulana MB Qasmi also said that this year the entrance exam would be for seven MMERC affiliated institutions from different states of India for a total 165 seats. Out of these 165, 25 at Markaz-e Islami Education and Research Centre (MIERC), Ankleshwar, Gujarat, 15 at Jamia Islamia Jalalia, Hojai, Assam, 25 at Al-Mahad Al-Ali Al-Islami, Hyderabad, Telangana, 20 at Ashraful Uloom Education and Research Centre, Howrah, West Bengal, 25 at Jamia Darul Hadis, Joynagar, Hojai, Assam, 25 at Madrasa Jamiul Uloom, Balapur, Akola, Maharashtra and 30 at Madrasa Islamiya Waqf Sufi Baug, Surat, Gujarat.
It is noteworthy that MMERC is the first of its kind and a unique institution in the world for post madrasa education, established by Maulana Badruddin Ajmal in 1994, where a two-year DELL course was introduced to impart quality English language education to madrasa graduates. Following the success of the DELL course a dozen plus other institutions in India have also started the same curriculum in their environs, eight among them are directly affiliated to MMERC, Mumbai this day.
MMERC covers a raft of subjects such as English language and literature, computer and communication, sociology, journalism, general studies and comparative studies of religions. The students are also exposed to interactive sessions by experts on various important topics such as science, arts, commerce, politics and other branches of learning and humanities so that upcoming ulama (madrasa graduates) are ready to cope with the present requirements and serve the country and the community better.
Maulana Burhanuddin Qasmi also went on to explain that MMERC holds a competitive type of objective and subjective exam for madrasa graduates every year where students are tested in various fields of Islamic knowledge such as Qur'an, its exegesis, hadith, fiqh, Arabic language and literature. Their proficiency in writing Arabic and Urdu and their awareness of general knowledge is also tested. A candidate's own ability and merit is the only criterion for getting selection at his chosen institution. Only those who have passed graduation from any madrasa in India can apply to sit for this entrance exam, reads the press release.
Application forms can also be downloaded freely from www.deobandonline.com. The last date for application submission is 05 February 2023.