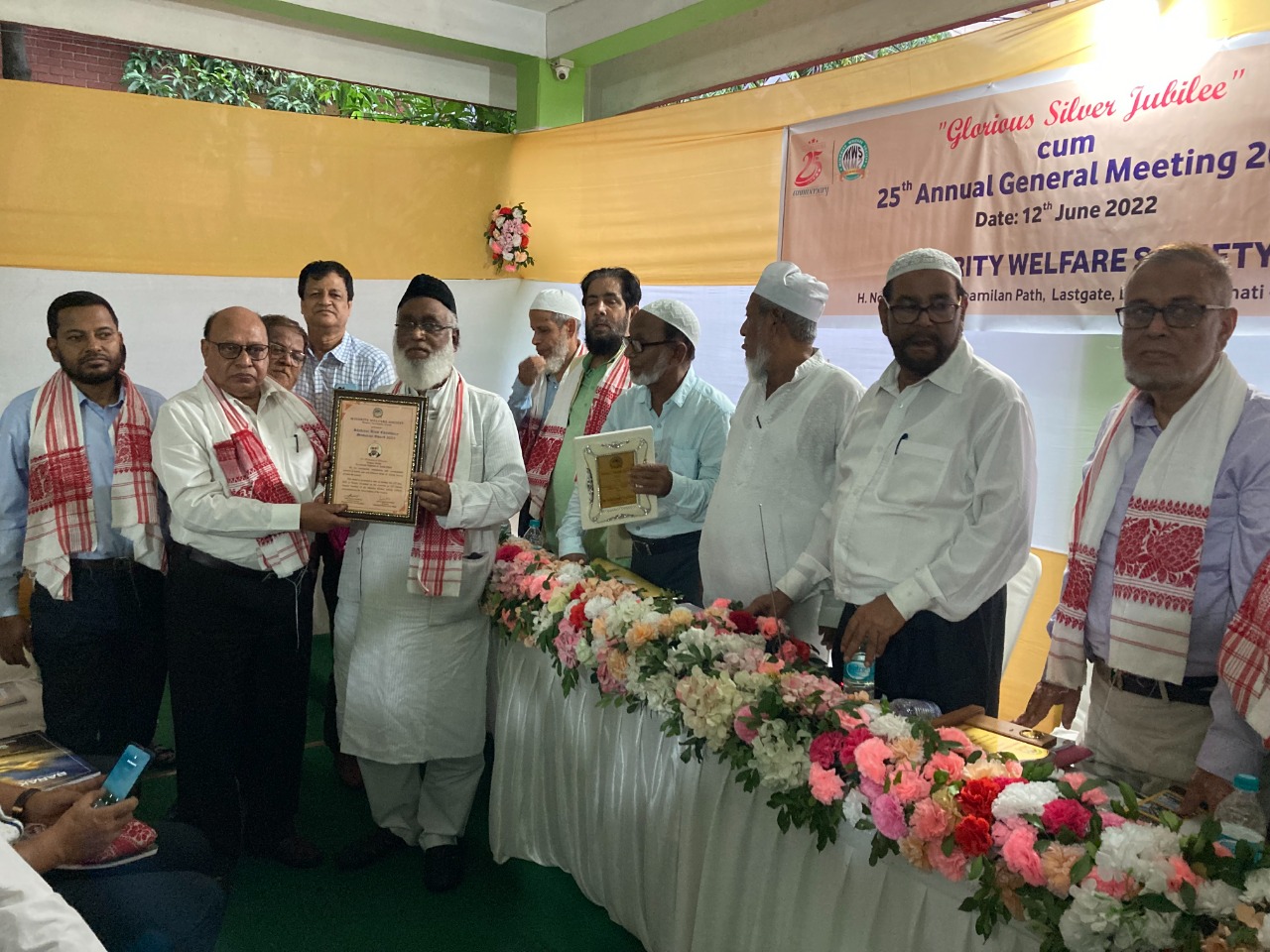 Dr Md Masood receives Sahidul Alom Memorial Award
GUWAHATI, JUNE 13, 2022: The Minority Welfare Society (MWS) held its 25th annual general meeting and set the ball rolling for its silver jubilee celebrations at a largely attended gathering in Guwahati on Sunday.
The colourful programme that began following the welcome address delivered by Nayeem Uddin Ahmed, Secretary MWF, in the morning consisted of competitions for youngsters followed by deliberations by invited speakers. Annual awards were given away in the valedictory function held in the afternoon. MWS is made up of more than 1,500 families residing mostly in and around Guwahati whose roots are in the Barak Valley region of Assam. The Society undertakes various welfare and motivational programmes throughout the year.
The highlight of Sunday's programme was the presentation of Annual Sahidul Alom Choudhury Memorial Award 2022 to Dr Mohammed Masoom of Silchar, son of late Dr Luthfur Rahman Mazumder, former minister of Assam, for his outstanding contribution and services towards society in the field of health and social services. The Shahidul Alom Memorial Award includes a memento, a citation letter, and a cash award of Rs 25,000 (Rupees twenty-five thousand only).
In his acceptance speech, Dr Masoom said that the MWS has been doing its best since its inception to uplift the community by keeping its connection with the Barak Valley. The Society is doing its best in the fields of education, livelihood as well as helping needy people for treatment, especially those who come to Guwahati for improved medical care. Dr Masoom expressed his great gratitude for selecting him for the award.
Earlier in the first session of the meeting, the general secretary of MWS, Janab Abdul Karim Choudhury, placed before the house the Annual Report of the activities of the Society for the years 2020 – 2021 – 2022.
The second session of the meeting that followed a community lunch, was chaired by Janab Abdus Sattar Choudhury, President MWS. A galaxy of dignitaries graced the occasion. Amongst them were Janab Abdul Hoque, retired Commissioner Secretary Govt of Assam, Enamul Hoque Laskar, former MLA Sonai, Khalilur Rahman Mazumder MLA, Khatigorah, Zakir Hussain Laskar, MLA Hailakandi.
Being the silver jubilee year of the Society, Abdul Waris Chowdhury, Vice President of MWS, highlighted the journey of the Society since its inception in 1994.
The annual magazine of MWS 'Barak', which is published every year, was formally released on the occasion by A S Nazmuddin, former health minister of Assam, in the presence of the honourable guests and the members of the editorial board.