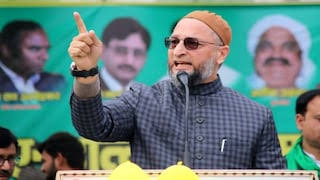 Delhi police book AIMIM chief Asaduddin Owaisi for hate speech, face accusation of "false balance" to please Hindu extremists
New Delhi: Delhi police registered cases against a group of people—including the BJP leaders Nupur Sharma and Naveen Jindal and militant Hindu priest Yati Narsinghanand—for their provocative and abusive speeches. Both Sharma and Jindal were removed from the BJP after an international backlash over their Islamophobic remarks.
However, the police also booked Asaduddin Owaisi, a parliamentarian and the head of All India Majlis-e-Ittehadul Muslimeen (AIMIM) party, and a Muslim journalist Saba Naqvi. While it is evident why the Hindu extremist leaders were booked, there is a lack of absolute clarity on why Owaisi was booked.
"This is the first FIR I've seen that's not specifying what the crime is," the Muslim leader said, following up with a series of tweets. "Delhi Police is suffering from "both sideism"," he said. "One side has openly insulted our Prophet while the other side has been named to assuage BJP supporters & make it look like there was hate speech on both sides".