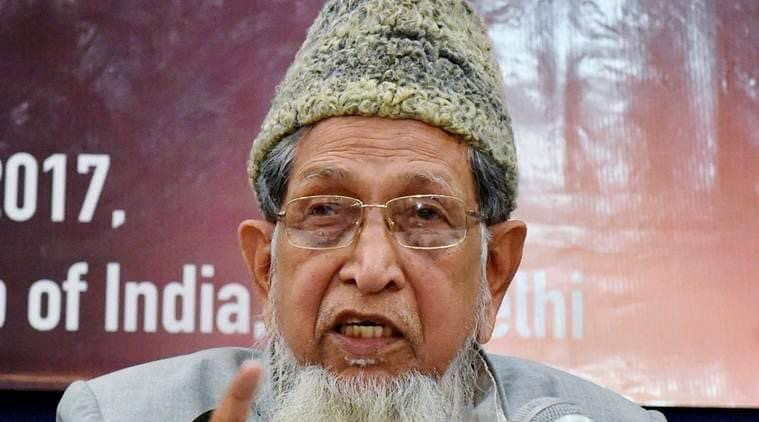 Former Amir of Jamaat-e-Islami Maulana Syed Jalaluddin Umari passes away
New Delhi: Renowned Islamic scholar and former president of Jamaat-e-Islami Hind Maulana Syed Jalaluddin Umari passed away at Al Shifa Hospital in New Delhi at around 8.30 pm today.
He was 87 and is survived by two sons and two daughters. His Nemaz Janaza prayer will be held at 10:00 am tomorrow(Saturday, 27th Aug 2022) at the JIH Markaz mosque (Masjid Ishat-e-Islam), Abul Fazal Enclave, Okhla, New Delhi.
Author of more than two dozen books, Maulana Umari was born in 1935 in a village called Puttagram in the North Arcot district, Tamil Nadu, India. He has been the president (Ameer) of Jamaat-e-Islami Hind for the three consecutive terms from 2007-2019.
He completed Alimiat and fazilat (Masters in Islamic studies) from Jamia Darussalam, Omerabad, Tamil Nadu. He obtained his baccalaureate (Munshi Fazil) in Persian from the Madras University. He also received a B.A (English) from Aligarh Muslim University.
Maulana Umari associated with JIH during his student life. After completing his studies, he dedicated himself to its research department. He officially became its member in 1956. He served as the JIH city president of Aligarh for a decade. He was the editor of its Urdu monthly organ Zindagi-e-Nau for five years from June 1986 to December 1990. Later, he has become JIH Vice President, which he served for four consecutive terms from April 1990 to March 2007.
Maulana Umari was rendering his valuable services as the chairman of the JIH Shariah Council since 2019. He was also Vice President All India Muslim Personal Law Board, a premier umbrella body of Indian Muslims. He was also the founder Editor of the quarterly Islamic research journal – Tehqeeqat-e-Islami since 1982.
Being a noted Islamic scholar, educationist, researcher, orator, and author Maulana Umari has penned over 40 books in the Urdu language and contributed hundreds of research articles in various journals and magazines, on various topics including Islamic doctrines, Islamic jurisprudence, Dawah, Islamic social system, human rights, contemporary challenges and political issues. Later, a large number of books were translated into various languages from the original Urdu ones which include:
Islamic Solution to Human Issues
Ma'roof-o-Munkar
Inviting to Islam
Woman and Islam
Muslim Woman: Role and Responsibilities
Rights of Muslim Women – A Critique of the Objections
Submission to God Glory to man.
Islam and Unity of Mankind
Of the Weak, Oppressed, and Islamic Shield
Islam: The Religion of Dawah
State of Our Community and Nation and Our Responsibilities.
Muslim Women and Economic Enterprise
Social Service in Islam