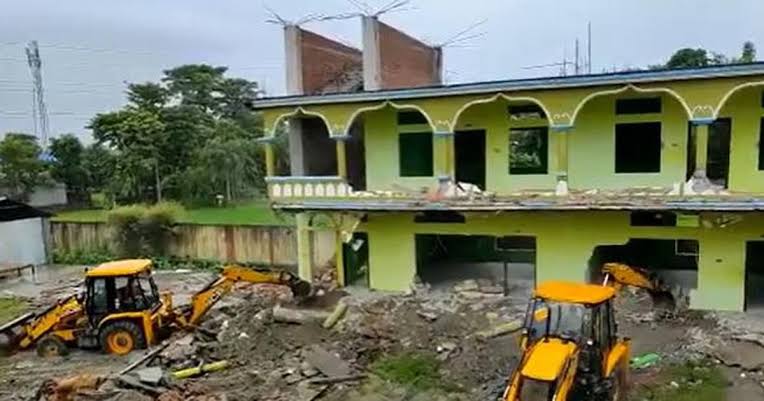 Assam: Government demolishes third Madrasa in a month 
Guwahati: The state government's crackdown on Madrasas in BJP-ruled Assam continues, with another private Islamic seminary demolished on Wednesday.
It was demolished, according to the government, because of alleged links to terror organisations Al-Qaeda in the Indian Subcontinent (AQIS) and the Bangladesh-based Ansarullah Bangla Team (ABT).
Nearly 200 Madrasa students were either sent home or relocated to other nearby institutions.
The demolition notice was only issued on Tuesday, the day before the demolition.
This was the third private Madrasa to be demolished in the last month.
Authorities demolished a private madrasa in Barpeta district on Monday, and another institution was demolished earlier this month in Morigaon district.
On August 26, the Madrasa teacher, Hafizur Rahman, was arrested.
Assam Chief Minister Himanta Biswa Sarma stated earlier this month that the state has become a hotbed of Islamic fundamentalism, and that five modules with links to Al Qaida-affiliated outfits in Bangladesh have been busted since March.
"Intriguingly, the hub of all these activities appears to be'madrasas' for the time being." "I'm not generalising, but everyone arrested so far has had some connection with'madrasas' or was acting as a preacher in some mosque," Sarma said.