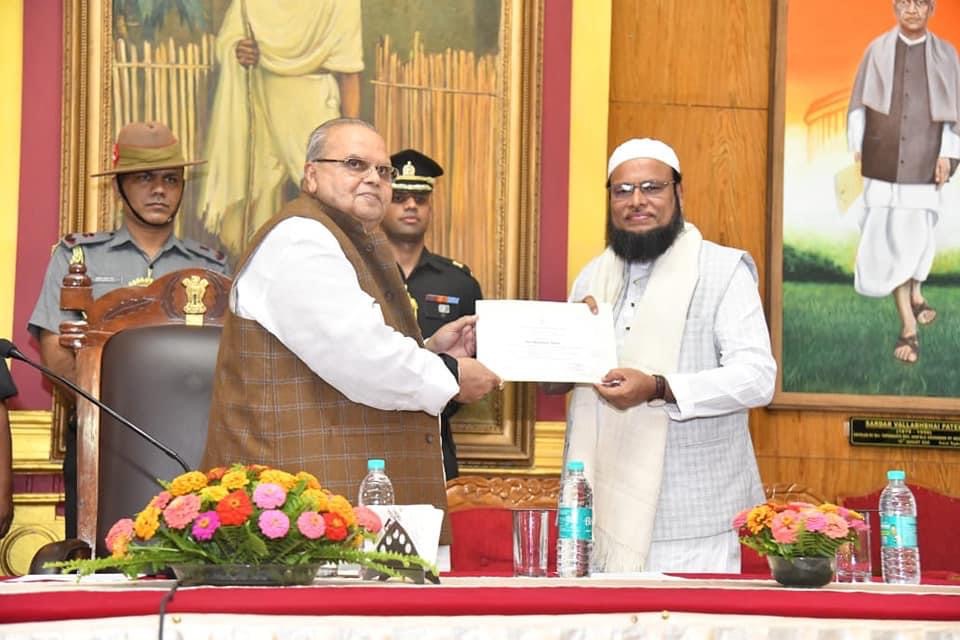 ERDF Chairman and USTM Chancellor Mahbubul Hoque conferred "Governor's Award for Excellence in Public Service -2022" 
Shillong: Acknowledging and expressing appreciation for outstanding accomplishments, the Governor of Meghalaya Satya Pal Malik on Friday conferred the highest and prestigious award, "Governor's Award for Excellence in Public Service-2022" upon Mahbubul Hoque, Chancellor of the University of Science and Technology Meghalaya (USTM) for his pioneering and outstanding contribution in the field of Higher and Technical Education, one who established all his educational institutions mainly in rural areas of Meghalaya and Assam.
Padma Shri Trinity Saioo, a school teacher who led a silent revolution mobilising more than 800 rural women to set up Self Help Groups for growing turmeric through organic farming methods, also received the Governor's Excellence Award on the same occasion.
The conferment of the awards by the Governor was held at the Raj Bhavan Shillong in the presence of an august gathering on Friday evening.
Accepting the Award, Mahbubul Hoque thanked the Governor and the people of Meghalaya for giving him the opportunity to serve the society spreading higher and technical education as well as various outreach activities. He recalled the cooperation extended by Late Dr Donkupar Roy, former Meghalaya Legislative Assembly Speaker and former Chief Minister (L) P. A. Sangma and the former Governor R.S. Mooshahary and overall support by the officers.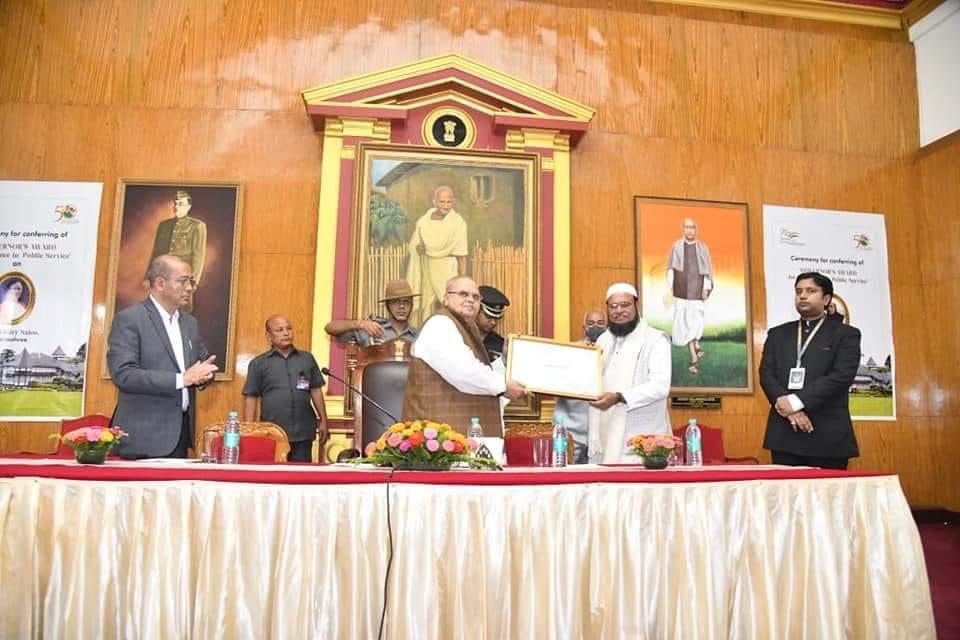 Conferring the excellence awards, the Governor Malik said that Mahbubul Hoque is a visionary educationist and passionate in institution building targeting rural areas. His dedication, selfless contribution for the cause of education has created an impact in the education sector which has been observed by every person. "M. Hoque is a passionate visionary who relentlessly works to build a self-reliant society through need-based education by establishing institutions", he said.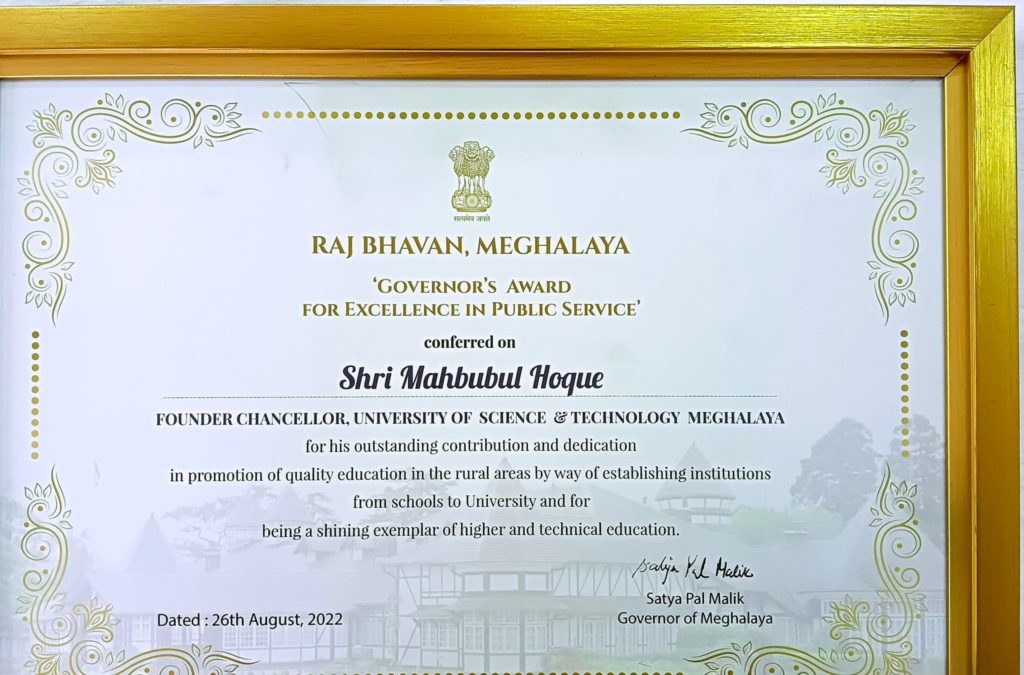 Born to a rural family at the remote Purabgul village in Assam's Karimganj district, Mahbubul Hoque had a turbulent early life as he lost his parents and supportive elder brother during childhood. He had to earn by doing private tuitions and selling home grown vegetables in the local market to continue his studies. A Masters in Computer Science from the prestigious AMU, he got lucrative job offers from MNCs and IT industries of the country as well as abroad but he decided to come back to his native place with a vision and embarked on a career of educational entrepreneurship.
His humble journey began with 1 computer and 4 students from a rented room in Guwahati, with only 85 rupees in his pocket. He assembled computers and sold them in the market to earn revenue to set up a computer lab. Initially, challenge was such that even landlords were unwilling to rent him in view of his financial condition. However, his study center – Central IT College – became the second-best study‐center of Manipal Group in the whole country. From then, there was no looking back.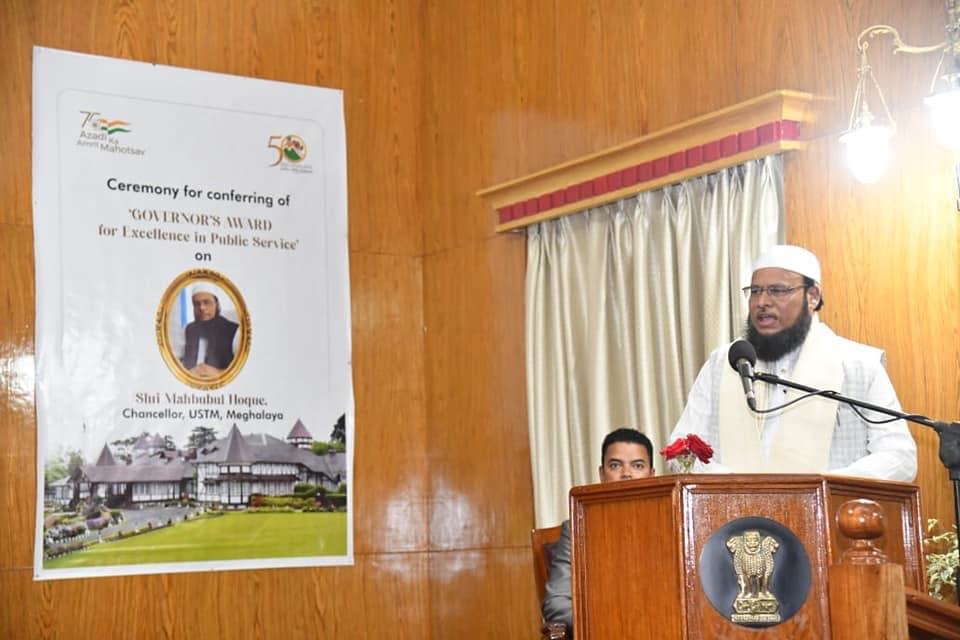 In order to strengthen the education infrastructure of the North East, Mahbubul Hoque set up the Education, Research and Development Foundation (ERDF) in 2005 under his chairmanship. A number of pioneer educational institutions were established under ERDF umbrella catering education from KG to PG to Ph.D. through two CBSE affiliated Senior Secondary Schools, one AICTE approved Engineering College, two PCI approved Pharmacy Colleges, one BCI approved Law School, one AICTE approved Business School, one NCTE approved B. Ed. College, one Women's College and his largest dream venture—University of Science & Technology Meghalaya where more than 5000 students are now pursuing higher education. The University has been accredited "A" Grade by NAAC in its 1st Cycle of assessment in 2021, a rare achievement. USTM is now placed among the top 200 universities of India in NIRF-2022 Ranking.
The institutions set up by him are imparting quality education to more than 10,000 students, of which 35% are from indigenous tribes, 20% belong to underprivileged backward classes and receive Free Education, 80% from rural areas, 57% are girl students.
More than 1200 teaching, administrative and non-teaching staffs are working for the growth of the institutions under his dynamic leadership. One of the most important features of the university is that more than 30 community and tribe students from the whole of north eastern states are studying in the university.
A recipient of 'Shikshacharya Award-2019' bestowed by Asam Sahitya Sabha and many such awards for his contribution in the field of higher education including the recent Community Excellence Award to USTM by UNESCO, Mahbubul Hoque has initiated numerous welfare activities such as Endowment Funds, Emergency Medical Assistance, Interest-Free Loans, Relief drives, Health camps, etc. He is extremely sensitive about environmental protection and efficient use of energy which reflects in adopting Green Campus Initiative for which USTM has already received many awards under the sustainable development goals of the UN.
Under the USTM Neighbourhood Mission, various departments of USTM have adopted neighbouring villages and children from these villages are availing free and concessional education in the University. A unique initiative of Mahbubul Hoque is the introduction and implementation of the Pay Back Policy under which students who clear competitive examinations are given back their entire course fee.
The future roadmap of USTM encompasses Research and Extension activities focussing on rural education and achieving its Milestones. He has set up Milestones to make USTM a World Class university by 2030 facilitating the state of Meghalaya as a global education destination by attracting students and scholars from across the world and nurturing local youths creating a global community.
His current dream project is a Medical College and Hospital in Meghalaya with cutting edge research facilities. Establishing a women's university in his native place Karimganj is another dream project submitted to Government of Assam for enactment.