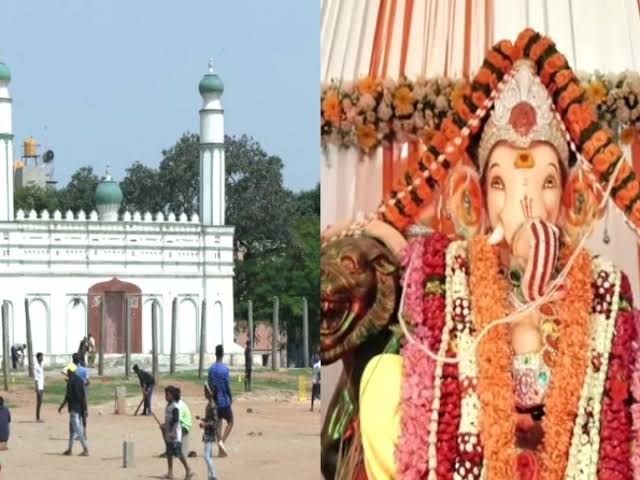 Karnataka HC Permits Ganesh Chaturthi Celebrations At Hubballi Idgah Maidan 
Bengaluru: In a hearing that took place at midnight on Tuesday, the Karnataka high court authorised the celebration of Ganesh Chaturthi in the Idgah Maidan in Hubballi. 
The decision was made when the high court dismissed a petition from the Wakf Board contesting the Dharwad local body's approval of the Ganesh Chaturthi celebration at the Idgah maidan in Hubballi. The hearing took place in Justice Ashok S. Kinagi's office.
The decision was made just hours after the Supreme Court ordered a status quo at the Idgah Maidan in Chamarajpet, Bengaluru, during Ganesh Chaturthi.
In the Hubballi Idgah case, the petitioner alleged that Hindus were seeking to build a Ganesh pandal for the first time and that the municipal commissioner was trying to modify the place of worship.
There is no question about the ownership of the property in this case, according to AAG Dhyan Chinnappa, who also noted that the circumstances surrounding the Chamarajpet land are distinct from those of the current case.
The high court said the property has not been declared as a place of worship.
Following a dispute, the Supreme Court ordered that Muslims be allowed to pray at the ground twice a year (Ramadan and Bakrid), while the civic body hoists the national flag there on Independence Day and Republic Day.
The Idgah Maidan in Hubballi has long been a source of communal angst. Analysts believe the Idgah controversy helped spread the BJP's influence in the state, and with the party demanding that Ganesh Chathurthi be celebrated at the controversial sites in both Hubballi and Bengaluru, it may be hoping to shine a spotlight on the issue once more.